ApocServ v2.7 final
Apr 29, 2012
27.194 downloads

Warning: Use of undefined constant responsive - assumed 'responsive' (this will throw an Error in a future version of PHP) in /var/www/tcheats.com/public_html/cheatdb/download-hack.php on line 185

Description and features
CS 1.6 Server Hack - You need to have a server in order to use this.
sc_giveitem
sc_noclip
sc_bunnyhop
sc_noflash
sc_rocket
Many more!
Screenshot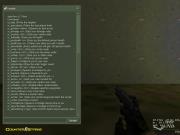 Virusscan results
Download ApocServ v2.7 final
This cheat has been downloaded 27.194 times.

Warning: Use of undefined constant responsive - assumed 'responsive' (this will throw an Error in a future version of PHP) in /var/www/tcheats.com/public_html/cheatdb/download-hack.php on line 249

Get updates!
Newest hacks
Warning
: Use of undefined constant responsive - assumed 'responsive' (this will throw an Error in a future version of PHP) in
/var/www/tcheats.com/public_html/cheatdb/includes/footer.php
on line
44