ApocServ v2.5
Feb 1, 2012
8.192 downloads

Warning: Use of undefined constant responsive - assumed 'responsive' (this will throw an Error in a future version of PHP) in /var/www/tcheats.com/public_html/cheatdb/download-hack.php on line 185

Description and features
Server side hack which works under linux and windows servers. Dmg/health, aimbot, teleport etc. etc.
sv_bunnyhop
sv_noclip
sv_noflash
sv_rocket
etc.
Screenshot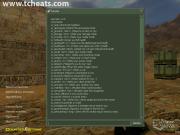 Virusscan results
Download ApocServ v2.5
This cheat has been downloaded 8.192 times.

Warning: Use of undefined constant responsive - assumed 'responsive' (this will throw an Error in a future version of PHP) in /var/www/tcheats.com/public_html/cheatdb/download-hack.php on line 249

Get updates!
Newest hacks
Warning
: Use of undefined constant responsive - assumed 'responsive' (this will throw an Error in a future version of PHP) in
/var/www/tcheats.com/public_html/cheatdb/includes/footer.php
on line
44